I have DELL Laptop Precision 7530 and Latitude 5550. And Docking Stations for these 2. I use now TB18DC docking station and from time to time when I connect my laptop (Precision) to it, my USBs don't work … keyboard, mouse, sometimes even screens. Then I have to connect them to my laptop instead of docking station. This is not acceptable and shitty Precision laptop has only 2 USB ports which is retarded. But after some time and searching on internet I have found solution. Problem with USB devices is that Dell has their own driver ASMedia USB3.0 eXtensible Host Controller and ASMedia USB Root Hub which are shit. Sometimes they work, sometimes they don't. Solution for this problem is to uninstall them as shown on screenshots below:
1. disconnect laptop from DELL docking station
2. go to Windows Control Panel (BTW this solution works on windows 7 and windows 10) and open Device Manager
3. open menu View and check "Show hidden devices"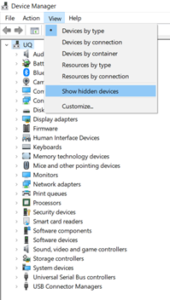 This is how the list of USB controllers looks like before and after this option:
4. Now here are assholes that mess-up USB devices:
ASMedia USB Root Hub
ASMedia USB3.0 eXtensible Host Controller
I don't know which one exactly is the shitty one, but uninstalling ASMedia USB3.0 eXtensible Host Controller removes both and makes laptop great again
5. It is important to check box "Delete the driver…." otherwise it might not work.
After this driver is out of the system connecting to docking station works and USB devices are working again without problems. BUT… Windows Update will try from time to time to install again this driver. There might be option to disable download and installation of it, but with all Windows spyware and malware features I find it easier to just uninstall this driver as soon as I notice that USB devices are not working as usual. So far, I had to clean it 4-5 times in last one and half year so it's not a big deal.